Madeleine L'Engle has passed on. Although really the most appropriate thing to say would be "Congrats!", I do find my eyes getting a bit moist thinking about it. Why? Well, that's a long story, but I've got plenty of time.
Let's wrinkle back in time to about nine years ago. I was still a new convert to Catholicism and was just beginning to really deliberately follow a Christian mystical path. A friend of mine whom I hadn't spoken with for a long time asked me to think what was the one thing that got me onto this path. There were so many factors affecting me in the few years before that—discovering Jesus' call for social justice, reading The Coming of the Cosmic Christ, and having had a crash-and-burn experience with some distorted beliefs. I answered that there wasn't any one thing, but I continued to think about it for the next few days. Yeah, it was true that there wasn't any ONE thing, but many, but there was one author who really cleared the way for me to be more receptive to everything that I would later encounter. Her name was Madeleine L'Engle.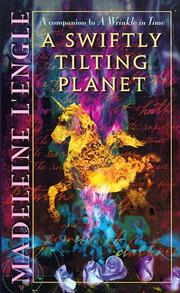 To understand that, let's wrinkle further back in time to around 1972 or so. There's this fifth-grade kid—let's call him—well, "Jon." Jon's considered a bright lad and shows a bit of creativity—likes to draw, loves to read—but he seems a bit one-sided; all of the books he checks out from the library are about animals, science or geography. One day, much to Jon's chagrin, his teacher forces him to read a fiction book. He protests that he doesn't want to, but she insists. Later, at home, he reads "It was a dark and stormy night…" and soon encounters worlds in A Wrinkle in Time which he couldn't have dreamed of otherwise.
Over the years, many things happened to Jon, but one thing Jon doesn't lose is his imagination. As well as becoming a born-again Christian, he becomes an avid science-fiction reader, and always has a conviction that there's more to life than what meets the eye… He even comes across a couple of books that suggest that science and spirit aren't entirely separate things (The Dancing Wu Li Masters, The Tao of Physics), and later, he finds a book that truly ignites his soul, Walking on Water: Reflections on Faith and Art.
To his delight, this was by her, the woman who wrote A Wrinkle in Time so long ago. In it, she explained to Jon what it was like being a Christian who couldn't accept the limitations on love that the Church so often placed, nor its frequent distrust of the imagination, of science, and changing understandings of reality. She described a kind of faith going back centuries (she specifically mentioned the Cappadocian Fathers), a kind of faith that amazed Jon for he had never heard of it before, a kind of faith that he would later call "Christian mysticism."
(Wrinkle forward)
No, there wasn't one thing. And there were many, many other authors who influenced me besides this kindly gray-haired lady who seemed to breathe out books like she breathed in God, who even made titles that were poetry and initiations in contemplation: A Circle of Quiet, A Wrinkle in Time, A Swiftly Tilting Planet, A House like a Lotus, The Young Unicorns. Yes, many others, but I wonder what my life would have been like if I had not encountered L'Engle's soulscapes in the forms I did at the times I did. God has his ways, but I'm sure it would have been quite different. Thanks largely to Madeleine, I enjoy science-fiction and fantasy not as mere escapes, but as expressions of truth where it's not quite the same thing as fact.
Dear Madeleine,
Congratulations on your new home. I hope you really enjoy it, and you deserve some time off. But don't get too cozy there. C'mon back soon and give us some more. We need you.
Love,
Jon