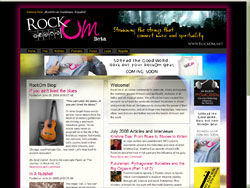 This is another shameless plug for RockOm.net, a site that my partners and I are continuing to develop. I'm writing this, because if you like what you read at frimmin.com, I'm certain that you'll love what you can read (and listen to!) at RockOm.net. RockOm is not a mere blog, but a developing social network, focused on exploring the whole realm where spirituality and music intersect, with all musics and all spiritualities, questings and questionings included.
If that sounds like big territory, it is. Our premier issue included interviews with musical personalities as diverse as Grammy-winning Christian bluegrass artist Ricky Skaggs, to Hindu kirtan performer Krishna Das.
Trevor Harden and Tommy Crenshaw recently finished a coast-to-coast trip to gather more interviews with amazing performers with penetrating insights into the human condition. But, course, we don't let national borders stop us either. We've Skyped across the ocean to interview Joseph Rowe, translator of dozens of books (including The Gospel of Thomas) and an exceptional musician with an emphasis on Sufi music, and we'll do more to bring together musicians from around the world.
Some of RO's features current features:
RockOm blog: Near-daily new content ranging from music and artists, to questions and musings
RockOm podcast: a weekly in-depth interview with some of the most interesting and insightful musicians alive
Featured Track of the Week: An exciting new track every week available to listen to from one of our guest artists
Featured Articles: Transcriptions and photographs from our interviews,
RockOm Forum: The heart of the RockOm community, where we discuss anything and everything.
Following RockOm is easy. Subscribe to our RSS feed to have our blog posts come right into your feed reader. And it's easy to add the RO podcast feed to your iTunes or any other MP3 player, by following the links on RockOm's home page. You can also follow RockOm on MySpace, Facebook, YouTube, and Twitter. Very soon we'll be adding the RockOm store, offering compilation disks of music from our guest artists, and later on, group pages and other features that will further develop the social network aspects of RockOm.
Now another reason I'm writing: We need your help to continue to grow RockOm and realize our vision. Not money, but support. If you like RO, please help us get the word out.
Do you have friends who are interested in music with a message? Tell them about RockOm. Do you have a blog or site of your own? Please consider adding a link to http://rockom.net. Also, we'd love for you to submit a post for the RockOm blog.
Do any of the songs, podcasts or posts strike a chord? Or not? Agree? Disagree? Tell us about it in the RockOm forums.
Finally, we appreciate your prayers, intentions and wishes for our continued growth and success. Thanks, and RockOm!