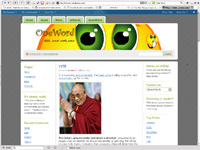 Proving reincarnation among human beings is challenging and controversial. However, proving reincarnation (redigitalization?) among blogs is much simpler. Case in point: Eternal Awareness, one of the wisest and most beautiful blogs (or even websites) that I've ever come across, is now deceased. Its recorded bits and bytes are slowly going the way of all data, to fragmentation and decay as the server endlessly spins, satisfying the incessant requests for information to manifest in the blogosphere.
But… a new blog has appeared on the spinning wheel of the world-wide Web! It's called One Word, and carries the same spirit, written by the same author. One Word is unique though, just as every person is unique. Where Eternal Awareness was sublime and serious, One Word is playful and funny, but no less insightful. It's a cyberspace Shiva enjoying his divinity and merrily dancing on the demons of ignorance.
In this incarnation, Shiva answers to the moniker of my friend Mark Warner, whom many of you know from reading Eternal Awarness. Mark decided to revitalize his blogging through a digital death and rebirth, and revitalized it is. One Word will blitz you with blasts of creativity, humor, art, insight, and joy at brisk intervals. Enjoy!